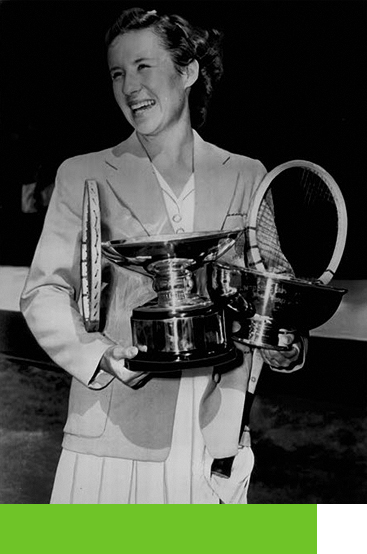 Inspirational movie about Maureen Connolly
The "Little Mo" movie is a wonderful feature film about the life of Maureen Connolly. It is 2 hours long and features major movie stars such as Anne Baxter, Mark Harmon, and Leslie Neilson. Glynnis O'Connor portrays "Little Mo" Connolly, Anne Baxter as Maureen's mother, and Mark Harmon as Norman Brinker. The movie, filmed in 1978, details the early tennis triumphs of the late Maureen Connolly.
"Little Mo" was born on September 17, 1934 in San Diego, California and died of cancer in June 21, 1969 in Dallas, Texas at age 34. Connolly ruled women's tennis from 1951-1954. She was the Woman Athlete of the Year for three years. In 1953, she was the first woman to win the Grand Slam of tennis -the American, French, Australian Championships and Wimbledon in one year at age 18. Connolly was nicknamed "Little Mo" by a sportswriter from her hometown of San Diego. The reporter likened the muscular 5-4, 130-dynamo to the battleship U.S.S. Missouri, which was known as "Big Mo".
Under the watchful eye of her coach, Eleanor "Teach" Tennant, Maureen practiced three hours a day, five days a week, the year round. Although a natural left-hander, she played right-handed, developing overpowering ground strokes, and was a formidable baseline player. Her quick feet, unwavering concentration, and pinpoint accuracy gave her the powerful tools she needed to win. Her delightful and refreshing personality off the court made her a favorite of the crowd and the media; yet when she appeared on the court with her game face on, she was no match for even the most experienced players.
Just a few months after "Little Mo" won her third straight Wimbledon title she returned to her home in San Diego for a rest, which included riding her favorite horse, Colonel Merryboy. On one of these gallops, a cement truck passed her on a bridal path and the scoop of the rear of the truck struck Maureen's right leg. Her leg never healed properly and she had to announce, at age 20, that she would never play competitive tennis again.
In 1955, "Little Mo" married businessman Norman Brinker and they moved to Dallas where Brinker founded the Steak & Ale restaurants, Chili's, and many others. Although Maureen could no longer participate in tournament tennis, her enthusiasm for the sport was undiminished and she began to work with young people.
In December 1968, just six months before her death, the Maureen Connolly Brinker Tennis Foundation was incorporated in Dallas. Its purpose is to further tennis and junior tennis programs. The Brinker's had two daughters, Cindy and Brenda. Today, the work of the MCB Tennis Foundation is carried on by Mrs. Frank Jeffett, who co-founded the foundation with her good friend, "Little Mo". The foundation sponsors tournaments all over the world, such as the Maureen Connolly Challenge Trophy, MCB Cup, "Little Mo" events for boys and girls, MCB Girls' 14, and many more. The Virginia Slims of Dallas (1970-89) which was organized by the MCB Tennis Foundation benefited the foundation.
It is a wonderful movie for the entire family and is very inspirational for young players who love tennis.
To order a DVD of the movie, please send a check for $45 along with your mailing address to:
MCB Tennis Foundation
6310 Lemmon Avenue
Suite 275
Dallas, TX 75209